Asset and Liability Search
You are about to hire a key employee or enter into a business agreement, yet you know very little about the person or business. An Asset Search can be an invaluable tool to "satisfy your due diligence."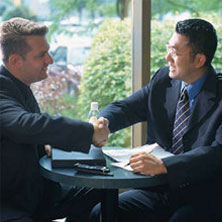 Our mission is to assist clients with their due diligence when they are considering investing in a new business; bringing a new investor or a key employee into an existing company; or contemplating a merger between companies, by providing a thorough background search on a corporation or individual.
We help you analyze the health of a company or the background of an individual by identifying assets and liabilities (nationwide), such as with judgments, liens, bankruptcies, corporate filings, uniform commercial code filings, motor vehicles, aircraft, watercraft, internet domain names, Dunn and Bradstreet records, IRS 5500 employee benefit information and criminal records… all combined in one, easy to read, comprehensive report.
Order your searches today by clicking on the search order buttons to the right or simply call us at (800) 290-1012 or email at info@assetsearchesplus.com. Our attorneys can help you determine what type of search is best for you.