Performing an Asset Search for Debt Collections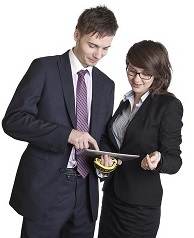 Wondering if it is worth collecting on an outstanding debt? Do you want a way to research the financial health of an individual or company? Have you approached an attorney or collections firm but want to assess whether it is financially prudent to use them? Investing in an asset search is a quick inexpensive way to accomplish this. An asset search is a way to check an individual or company's assets and liabilities to see if they have sufficient tangible assets for collection.
Debt loses value quickly with the passing of time so investing in an asset search is best done as soon as possible. At www.AssetSearchesPlus.com, for example, a nationwide individual asset search is only $185 and a nationwide business asset search is $165 and will be completed and sent electronically to you within 1-2 business days. Most asset searches will cover the following:
The subject's name and address, Driver's license information, Real Estate, Deed transfer information, Motor vehicles, Watercraft, FAA certifications and aircrafts, Professional licenses, Bankruptcies, Liens and judgments, UCC filings, Corporate entities associated with the subject, Voter registration information, Sexual offenses, Employment information, and State and federal criminal records. A thorough asset search also provides any liabilities associated with the subject, such as other lawsuits, bankruptcies, state and federal tax liens and uniform commercial code filings.
Both the lawyer and collection agencies who work with a prospective client are required to satisfy their "due diligence" by doing a nationwide asset search on their behalf. Once the client or creditor gets their emailed report, they will be able to quickly assess whether they should pursue collections. They may find that the person or business entity does not have sufficient assets to warrant the costs of legal counsel or hiring a collection agency. For more information on conducting an asset search, please call us at 1(800)290-1012 or visit our site at www.assetsearchesplus.com . You can also download our free eBook on conducting an asset search by clicking http://www.assetsearchesplus.com/download-our-free-ebook/