What You Need to Know About Asset Searches
Do you have questions about conducting an Asset Search?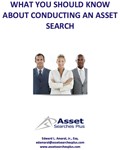 We have an ebook that covers every aspect of Asset Searches and what you need to do. Here is an overview of the key areas involved with some potential questions. Our Ebook can get you the answers you need and help you decide about conducting an asset search today. Please download today.
What do Look for When Choosing an Asset Search Company?
When looking to conduct an asset search, it is important to carefully choose a qualified asset search company to assist you. The internet has become second nature for the majority, making it easy for someone to create a website that could potentially scam you or provide invaluable information. Therefore, it is important to research the company that you are using to make sure it will give you the results you are seeking. It is important to note how long have they been in business as a factor in your decision.
When is an Asset Search most helpful?
An Asset Search is helpful to a variety of legal and personal matters; including Collection of Debts, Business and Personal Injury Due Diligence, Compliance and Divorce Cases.
Collection of Debts
An asset search is a good first step in collecting debts and in even helping you determine whether you should continue further collection efforts at all. In some cases the asset search would uncover hidden assets or uncover that a person has no assets.
Business Due Diligence Compliance
There are many times when Asset Search is appropriate to conduct in Business, for example, when a client is considering investing in a new business; bringing on an key new employee or investor into their company; or considering a merger between companies. An Asset search can provide a thorough background search for both an individual or corporation.
Divorce Cases
In divorce cases an asset search can help Divorce Attorneys, Divorce Mediators or divorcing couples uncover any assets that may be hidden. They can help in verifying assets, identifying entities, corporate or otherwise, that may be holding assets on the part of your subject/spouse such as corporations, partnerships and trusts.
Personal Injury Cases
One of the main purposes of an asset search is to assist attorneys and/or injured parties in locating assets and liabilities, both pre and post litigation especially when it comes to personal injury settlements. Often is the case when a personal injury attorney has a client with severe injuries and an insurance policy with inadequate coverage. It is important to complete an asset to protect your client's interest and potential recovery or personal injury settlement.
For more information on conducting an asset search, please call us at 1(800)290-1012 or visit our site at www.assetsearchesplus.com.
You can also download our free eBook on conducting an asset search below
Tags:
asset investigation
,
asset research
,
asset search
,
asset search company
,
asset searches
,
Asset Searches for Personal Injury Cases
,
confidential asset search
,
find assets
,
personal asset search
,
professional asset report
,
quick asset report
,
reliable asset search
,
Reputable Asset Search Company